We are so excited to announce that we have been given the opportunity to pass along our bulk printing price on Hero Capes to our wonderful teams!
If you are looking for a custom "TEAM CAPE" for the 2015 Race for the Cure, look no further. Send us the quantity, payment and team name by March 27th and Komen Sacramento will take care of your team's order. Capes will be shipped to the Komen Sacramento office and we will notify your team when they are available for pick-up.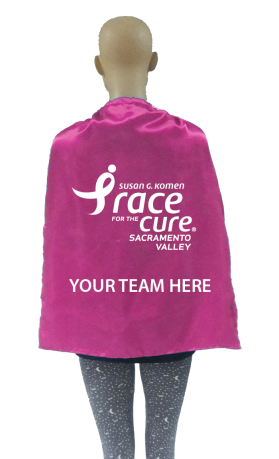 Please place orders with Shannon Shields, Shannon@komensacramento.org no later than March 27th at 1:00pm.
Please see pricing based on quantity ordered below:
Cape Size: 23.6" x 27.55"
White Imprint
Team of 25-49: $7.80 ea
Team of 50-99: $6.70 ea
Team of 100+: $5.50 ea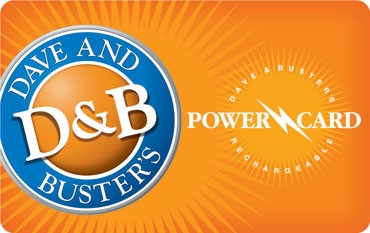 Reactivate your team or register a new team NOW and you may be one of four lucky winners of a Dave & Buster's Power Card good for game play at the Fountains at Roseville.
You have until close of business day tomorrow, March 12th, and you'll automatically be entered into the drawing. Don't have a team? Join us! The more the merrier.
Click here to get started. You only need five entrants to become a team!


Save the Date: April 30th at Arden Fair from 5:30-7:30pm for a survivor only reunion.
The Survivor Social is a chance to meet and reconnect with other survivors. Our special guest speaker will be former WNBA Monarchs star, two time survivor, and health advocate Edna Campbell. We're offering survivor race participants a first chance to pre-register by March 30.
We'll be sending you more details at a later date. Please make sure to tell survivors on your team about this very important event!

Along with your race registration, consider making a donation.
You might not think donating $25 or $50 could make such a difference, but it does.
Consider that just $50 helps to provide 50 newly diagnosed breast cancer patients with educational material. Or, if a team of ten each donated $25, they could purchase the equivalent of mammograms for two people who can't afford them.
But you don't have to make the contribution yourself - engage co-workers, family and friends to support your efforts. By using the power of 10 friends and family each donating $25, you will have successfully helped with potentially life-saving screenings or other medical services.
Your efforts DO make a difference and help make our Komen Community Grants Program possible, supporting breast health services and education for the uninsured and underinsured in our local community.


Rally for the Cure is a grassroots program that works to spread awareness about breast cancer in support of Susan G. Komen through volunteer organized golf, tennis and social events.
Rally was created to empower people to take action in the fight against breast cancer by educating women about the disease and reminding them to get their annual screening to ensure early detection.
Find out more at: http://www.rftcpromotions.com/